PRODUCTION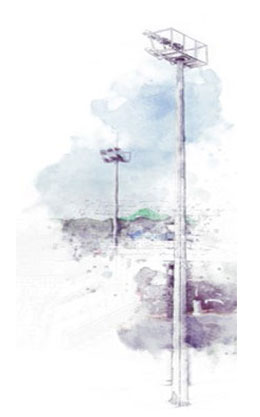 Production of poles for public lighting and flood light poles is something that characterizes Amiga and makes it recognizable from its founding. Amiga is today the leading regional manufacturer of poles for lighting. Behind us is 27 years of experience and continuous work and training in the field of public lighting poles and high floodlighting poles, in terms of quality and standards, as well as in terms of design and implementation of new technologies.
We have developed three basic series of poles for public lighting: tubular segment (CRS), conical round (KRS) and polygonal conical (VRS), height up to 16m.
Poles of this RI series are characterized by simple designs of straight lines and smooth surfaces, which fits perfectly with the newer generation of luminaires and modern solutions for public lighting, and with installation of decorative brackets and lamp carriers becomes important detail of urban areas.
For the purposes of lighting sports fields, urban intersections, parking lots, industrial complexes, advertising totems, a program of high floodlighting poles of various types and purposes, with height up to 65 m was developed. Basic variants are: SEXTANT, FARIO, STADIUM, MINI MODULO AND MODULO MPP. Due to the specific purpose of these poles modified variants of the main groups are also made, depending on the demands of design in terms of technical solutions and aesthetic characteristics, where our design department is always available to offer their knowledge and experience to meet the specific requirements of customers.
SEGMENT TUBULAR
CONICAL ROUND
POLYGONAL CONICAL